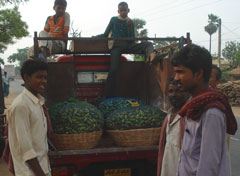 Objective:
Enhance the inclusion of all small farming communities in agricultural technology innovation by improving understanding of the interactions between technology needs, farming systems, ecological resources and poverty characteristics; and link these insights with technology assessments in order to guide action that will overcome current barriers to technology access and adoption.
Approach:
Carry out an in-depth survey in marginality hotspots within the states of Odisha and Bihar, which will be mapped and identified in partnership with ZEF, aiming to characterize all strata of people in poor, small farming communities and identify the barriers they face in adopting new crop technology that could lead to increased productivity.
Based on secondary data and the results of the survey IFPRI-Asia will:
Characterize the different strata of the poor and their needs
Identify barriers that hinder the spread of crop innovations from both supply and demand sides (including needs assessment of the different strata of the poor).
Assess (ex-ante) the likely impact of major productivity growth programs on the lives of the different strata of the poor.
Develop a rollout strategy for the major crop innovation programs .
Timeline: 2012-2013
Geographical Coverage: Bihar and Odisa, India