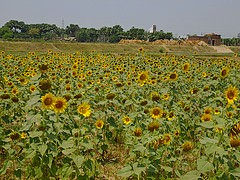 The following post is by Mruthyunjaya H, former national director, NAIP
With new government in the policy corridors, immediate actions by them in the first 100 days, not only define measures for current key challenges but will also lays their future development pathways for the coming 1 year, 3 years and 5 years.
Over the years, agriculture has shown a promising growth with average 3.5 per cent growth as against the targeted 4 per cent per annum and have helped in reducing poverty. In the agriculture sector, the main thrust announced in the agenda by the new government is to bring back the profit in farming. Aiming towards this goal, the government plans to focus by, bringing in innovative ideas in technologies and efficient use of non-cultivable land. Increase in investment in agri-infrastructure, massive irrigation projects at the village level and inter-linkage of the rivers, are few of the government's top priorities. The other suggestions included are to open up agricultural marketing, incentivise research and value chains, and reform rural schemes.
With limited cultivable land, the government also intends to adopt a land use policy which will facilitate scientific identification of non-cultivable land and its strategic development.
Prices has been the concern, the government has decided to address issues pertaining to pricing and procurement of agricultural produce, crop insurance, and post harvest management.
Taking the efforts forward, IGIDR and IFPRI plans to organize a two day workshop on 'Harnessing Opportunities to Improve Agri-Food Systems' to discuss the agricultural priority of the government and develop a road map to realize these priorities for improved agri-food systems on 24-25 July, 2014 in New Delhi.
Below is the outline to the workshop agenda
Priorities of new government in food and agriculture related issues
   Ensuring Sustainable Food production
Managing fragmented land holdings and increasing agricultural productivity
Expand irrigation for higher productivity
Possible 'yes' for GM crops (positive towards GM crops)
Promoting healthy food system
Food safety (regulations and implementations)
Better governance and implementation of existing programs
 Improving markets and trade
Control food inflation
Incentives to states for adopting Model Market Act
Development of agriculture information database (production, demand, prices and trade)
Trade opportunities within South Asian countries and between South Asia and ASEAN
 'No' to FDI in multi-brand retail
Transforming agriculture
Promote small & medium enterprises (SMEs)

NREGA for rural development
Building resilience
Innovative crop insurance scheme
Agriculture income insurance Scheme
Development with climate change
Strengthening institutions and governance
Grain management (especially of rice and wheat): role of private sector from procurement to PDS
Rationalize fertilizer subsidies