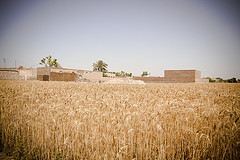 A growing population, food price inflation, and frequent natural disasters in Pakistan have raised concerns about the country's food security. Pakistan's population depends on wheat and rice to meet their daily food energy requirement but past studies have not provided supply or demand projections for these important cereals. IFPRI researchers bridge this information gap using the Almost Ideal Demand System (LA-AIDS) to project household demand for eight food items.
Supply and Demand for Cereals in Pakistan- 2010-2030 presents results and recommendations which include:
Demand for wheat and rice will more than double by 2030.
The demand for wheat is expected to be greater than supply, resulting in a deficit.
Rice production will be more than adequate to meet demand, resulting in a surplus.
Further research and appropriate policy measures are needed to address the wheat deficit.