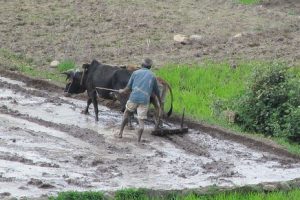 More than half of India's workforce is engaged in agriculture and its allied activities. However, the condition of the agricultural community, in the country, is not very encouraging. Lack of accessibility to formal credit pushes the farmers to reach out to the informal credit sources, mainly the local moneylenders, avail credit at exorbitant interest rates and thus, entering into a debt trap.
Indian agriculture policy aimed to reduce the farmer's dependence on informal credit and increase the accessibility to formal credit. Various policy initiatives have been taken by the government in this regard starting from nationalization of large commercial banks (1969 and 1980) and establishment of Regional Rural Banks (1975), National Bank for Agriculture and Rural Development (1982), to farm credit programs like the Kisan Credit Cards (1998–1999) and the Interest Subvention Scheme (2010–2011).
Efforts have also been made to strengthen the formal credit system through programs like Priority Sector Lending (PSL) and recently with financial inclusion schemes Pradhan Mantri Jan Dhan Yojana (PMJSY) and Swabhimaan. Although these initiatives have indeed made a positive impact in the agriculture credit system with continuous increase in the agriculture credit flow in the rural areas, yet the informal credit sources still account for more than one third of the agriculture credit flow.
Of late, there has been rising demands, in different states of the country, for waiving off farmers' loan as a measure to deal with the debt crisis. Some state governments have already announced the waivers. However, this appears to be a very short term solution to the current problem. There aren't much evidence that suggest that loan waivers have a positive impact on either the farm/ household income or their expenditures. Alternatively, increasing farmers' access to formal credit mechanism is believed to empower them, help them channelize their resources better and in turn boost the agricultural economy. A recent IFPRI discussion paper Institutional versus Noninstitutional Credit to Agricultural Households in India: Evidence on Impact from a National Farmers' Survey tries to understand the role of institutional farm credit on farm income and farm household consumption expenditures.
The findings of this study reveal that farmers with smaller land size find it difficult to borrow from formal credit system in the absence of collateral and thus resort to borrowing from informal sources. Caste also seems to be a factor affecting the access to formal credit sources as most formal borrowers were from the General and Other Backward Classes (OBC) and fewer from the Scheduled Castes (SC) and Scheduled Tribes (ST).
Apart from this, male-headed household were found to be receiving greater share of institutional credit as opposed to their female counterparts. Educated households had access to formal financing sources more than others. For example, households that are aware of the government schemes such as Minimum Support Prices (MSP) were more likely to obtain credit from formal sources.
Access to formal credit was found to have a direct relationship with the net farm income and per capita household expenditure. Increase in access to institutional credit was seen to increase the farm income and also the consumption expenditure. Thus, accessibility to formal financing could significantly improve the overall economic welfare of the agriculture households.
The study, suggests that existing policy and program initiatives must be scaled up in order to expand the reach of formal credit systems and increase farmer's accessibility, especially of small and marginal farmers, to institutional credit. As highlighted by the findings of the study, concerted efforts needs to be taken to reduce the social discrimination in the financial sector based on gender and caste. Literacy levels, especially financial literacy levels, need to be improved considerably. Convergence among different policies would significantly help in bringing out desired results and increasing the share of institutional credit in the agricultural credit system. It's time to break the debt cycle for the farmers and give them their due as economic and social welfare of farmers is a prerequisite for a healthy and progressive India.