Call for Abstracts: Sustainable Development Goals: Preparedness and Role of Indian Agriculture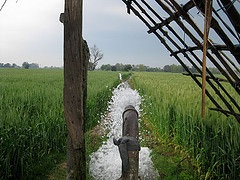 The International Food Policy Research Institute (IFPRI) and the Trust for Advancement of Agricultural Sciences (TAAS) are jointly organizing a Conference on "Sustainable Development Goals: Preparedness and Role of Indian Agriculture" on 11-12 May 2017 in NASC Complex, New Delhi, India. The main aim of the conference is to prepare a roadmap for Indian agriculture to achieve Sustainable Development Goals (SDG's) before 2030.
Globally, poverty and hunger are still twin challenges before human civilization despite specific temporal and spatial efforts. Though extreme poverty has been reduced by more than half since 1992, yet more than 1 billion people live on less than $ 1 a day.  To continue the global collective efforts of Millennium Development Goals, countries adopted renewed set of goals to end poverty and protect the planet and ensure prosperity for all as part of new SDGs. There are 17 SDGs and four are directly related to agriculture: "no poverty", "zero hunger", "climate action", and "life on land".
Agriculture plays an important role for the livelihood of poor especially in rural areas. However, agriculture sector is currently facing numerous challenges. The question obviously before us is: How can agriculture contribute towards achieving SDGs? What should be the strategy to promote agriculture for achieving SDGs? What lessons other developing countries, especially South Asia, can learn from India or vice-versa?
It is our pleasure to invite you and your colleagues to participate in the conference and contribute abstracts in any of the following topics by 14 April, 2017:
Status of Indicators of SDGs
Poverty and hunger
Land and water degradation
Climate risks
Technologies to Accomplish SDG
Genetic enhancement
Natural resource management
Farm mechanization
Role of Policies and Institutions
Backend service system
Agricultural marketing and food retailing
Agriculture-nutrition linkages
Best Practices in Developing Countries
South Asia
Southeast Asia
Africa
We shall appreciate if you circulate the invitation letter to your colleagues and students for participation and contribution. You can send in 300 words abstract mentioning the topic under which abstract is submitted with complete details of the corresponding author to Vaishali Dassani (v.dassani@cgiar.org).