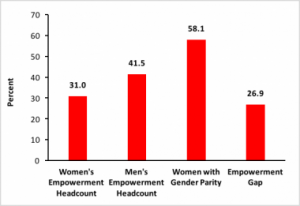 Cross-posted from ifpri.org written by Akhter Ahmed, Julie Ghostlaw, and Nusrat Hossain
This week's International Women's Day 2017 celebrates the social, economic, cultural, and political achievements of women. Despite significant strides toward gender equality in Bangladesh, there are still many barriers to women's participation in the agriculture sector. Evidence from IFPRI's research in Bangladesh shows that an increase in women's empowerment in agriculture helps to move people out of poverty; improve household, child, and maternal dietary diversity; and increase agricultural diversity.
Ministry pilot project links agriculture, nutrition, and gender
Motivated by this research-based evidence, IFPRI designed the Agriculture, Nutrition, and Gender Linkages (ANGeL) project, a two-year effort piloted by the Bangladesh Ministry of Agriculture through its Department of Agricultural Extension. ANGeL is evaluating the impact of three types of interventions for promoting nutrition and gender-sensitive agriculture:
Agriculture Production—Facilitating the production of the high-value food commodities rich in essential nutrients through the diversification of crops, livestock, and the like.
Nutrition Knowledge—Conducting high-quality training in behavior-change communication to improve people's knowledge of nutrition.
Gender Sensitization—Undertaking activities to empower women and raise their status while encouraging gender parity.
Results highlight women's persistent disempowerment
Before launching ANGeL's field-level activities, empowerment data were collected from 4,000 households across 16 districts in rural Bangladesh.
ANGeL baseline results (graph at upper right) show that 69 percent of women are disempowered. In other words, only 31 percent of women are empowered—10 percent less than the share of men who are empowered (41.5 percent).
Read more here