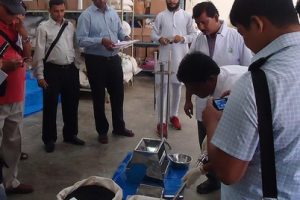 Seed, fertilizer, and irrigation are the major inputs that drive improvements in agricultural productivity. High-quality seed, alone, contributes a 15–20 percent increase in output levels. For major cereals, the key constraints facing Nepalese farmers are lack of access to high-quality seed and rates of seed replacement of less than 10 percent. Recent policy shifts toward private-sector involvement in the production of certified improved seed in Nepal are encouraging. Nearly 20 private seed companies are involved in producing and marketing seed, contributing around 27 percent of the country's seed production. The public sector's share of seed production is relatively high for wheat (for example, through the National Seed Company), whereas the community sector's shares are higher for rice and maize. The private sector's shares are moderate for wheat, rice, and maize, but are very high for vegetable crops.
Through the International Food Policy Research Institute (IFPRI), the Nepal branch of the United States Agency for International Development is supporting the Government of Nepal in its efforts to improve the policy and regulatory environment for seed production by addressing sales regulations and supporting the enactment of farmer- and agribusiness-friendly input policies and procedures. The main objectives of the research were (1) to critically examine constraints on attracting private investment in the commercial production and marketing of seed; (2) to recommend critical policy, regulatory, and capacity building measures both short term (less than two years) and medium term (three to five years); and (3) to provide detailed strategic inputs to increase private-sector involvement in the seed sector and to identify areas in need of institutional and programmatic support for the Ministry of Agricultural Development, the Seed Quality Control Centre, and the Nepal Seed Board.
Approach
For this study, the research team reviewed key documents; analyzed primary and secondary data; and met with key stakeholders to determine important constraints, gaps, and areas in need of reform. Recommendations and strategic formulations for policy, legal, institutional, and programmatic reform were identified and prioritized, as outlined below.
Key findings and Policy Recommendations
Harmonize Nepal's seed industry with global trade
Harmonize the local seed industry with the varietal research and seed production of the South Asian Association for Regional Cooperation and Asian and Pacific Seed Association
Enact the policies of the World Trade Organization's Intellectual Property Rights under the International Union for the Protection of New Varieties of Plants and the Plant Variety Protection
Strengthen and expand Nepal's existing seed industry
Develop regional competitiveness
Simplify the process for registering new varieties
Provide incentives for Nepal's private sector to engage in seed research and hybrid breeding
Improve private-sector representation within the Nepal Seed Board and Seed committee
to contribute on policy decisions and reforms
Strengthen the capacity of the national research institutes to develop new, cost-reducing varieties and technologies
Develop programs for skills training, farm visits, and learning opportunities for staff from seed companies
Attract foreign direct investment and global collaboration
Attract foreign direct investment for the local seed industry, as well as local and global investment
Promote collaboration and joint ventures in seed enterprises
In addition to the above recommendations, analysis of the legislation and policies governing Nepal's seed sector clearly indicate that the elements required to strengthen the county's private seed companies are largely present, but implementation mechanisms need to be developed. The analysis supports the objectives of National Seed Vision 2025 in developing inbred lines for commercialization by private seed companies, but appropriate procedures and guidelines for further multiplication are needed. This initiative could be developed as one of the models for public–private partnership in the area of hybrid research. Findings also propose that the government support the establishment of strong, viable seed companies by leasing the required land for testing the seeds before rolling in the marker. It is also advised that the government support such companies by providing (a) grants, subsidies, and tax and customs exemption for the purchase of seed equipment and machinery, and (b) skilled manpower across the chain for a fixed period.