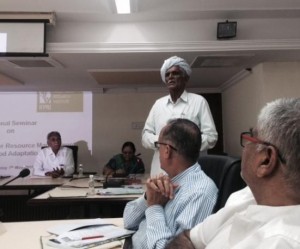 It is predicted that climate change and rising temperatures will increase the demand for water used in agriculture and in urban areas. This poses significant risks for the livelihoods of rural communities and the food security of urban populations. In order to address these risks there is a need to understand issues surrounding  water security in India.  For instance, options that address increasing water scarcity through better co-management of water at the river basin are needed in many water-stressed areas.
In this context and with the goal to improve the understanding of water resource management and its relationship to climate change, a dialogue was organized by the International Food Policy Research Institute (IFPRI) and the National Council for Climate Change, Sustainable Development and Public Leadership (NCCSD) on May 7th, 2016.  The workshop was attended by 124 participants that included scientists, government officers, social workers, civil society members and 36 farmers and students. The workshop was undertaken as part of the India FSP, which undertakes studies and organizes policy advocacy dialogues to improve food security at the national and state levels in India.
Dr. Kirit N Shelat, executive chairman of the NCCSD, presented an overview on climate change, food security, water and energy security, environmental degradation and natural calamities in India. He specifically highlighted that despite achieving consistent annual agricultural growth rates between 2 and 4 percent in recent decades (except in the last two years) climate change is affecting the productivity of agriculture. An example given illustrated how increases in soil salinity in parts of Gujarat are affecting root development and productivity. He also emphasized that India does not have a comprehensive policy on river basin management. In effect, this means that India has no effective policy response to the concurrent floods that it is experiencing.
The workshop included a session on farmer Interaction which provided farmers with the opportunity to discuss their observations and problems with water salinization and climatic change. During the session the participants highlighted a number of issues that need to be addressed and produced a number of suggestions which they request are sent to relevant policy makers, the government, research organizations and agricultural universities.
The workshop also highlighted a number of successful initiatives that have been implemented in Gujarat that have addressed water scarcity in recent decades. An example of such an initiative is the "Narmada Water Cannels", a massive water conservation program that links multiple rivers and provides large scale micro-irrigation. Another successful initiative is the participatory scheme for Communities water Conservation which has improved the Gujarat groundwater table.  Overall, the Government of Gujarat has integrated approaches for water management that involve water conservation, inter-basin water transfer by interlinking, strengthening of existing canal system, participatory irrigation management, and micro-irrigation.
Despite these successes, climate change and two consecutive droughts are increasing the water stress communities in Gujarat are experiencing. Moreover urban-rural tensions are emerging as water levels are falling rapidly in rural areas due to increasing demand in new urban areas. Dr. Tushar Pandey, from the International Water Management Institute (IWMI) emphasized the urgency of developing climate smart agriculture, enhanced water storage, on demand irrigation, and improved resilience in farming livelihoods as effective strategies tackling water scarcity. This is especially relevant as on current trajectories India is expected to face a 12 percent demand supply water supply gap by 2025.
By: Nisha Shah, NCCSD and Jaspreet Aulakh, IFPRI