Cross-posted from the FSP India website written by Jaspreet Aulakh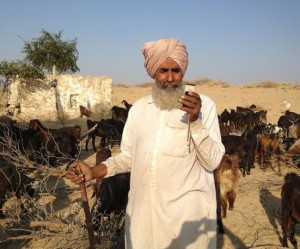 India currently has several public and private active information and communication technology (ICT) initiatives with objectives to support and provide assistance to farmers, but analysis on how ICT is helping farmers to enhance productivity, better cope with the weather variability, and att
ain better prices for their produce is limited. Information on how small farmers and women engaged in agriculture are being helped by agricultural information dissemination via ICT is limited as well.
A workshop on October 16 in Hyderabad on the use and role of ICTs in Indian agriculture mapped the landscape and functionality of these initiatives. Participants agreed this was the first conference held at this scale on this topic, and it helped introduce different partners concurrently working on this common cause.  The main expectations from this workshop were to better understand the ICT landscape in India, the contribution of ICT, and the challenges faced in promoting the use of ICTs. It looked into how public policies can address some of these challenges, and will hopefully serve as a jumping off point for the development of new research that can generate evidence on the use of ICTs in achieving food security.
The extensive availability and coupling of ICTs in the recent decade-- television, mobile phones, computers, digital networks-- has led to unparalleled capacity for dissemination of knowledge and information to the farmer population. Some commonly used ICT applications or tools deployed to promote agricultural related information include: tele-centers, web portals, call centers, mobile phones, community radio, video, digital photography, GIS, e-mail, audio and video conferencing, and social media applications such as Facebook and WhatsApp. In addition to these, traditional ICTs such as radio, television, and print media are also used to share information about agricultural technologies, weather updates, and market price information. The one limitation to these older mediums is their comparatively unidirectional flow of information and lack of interaction and exchange between parties.
The gathering shared experiences from a number of initiatives, including mKisan[1], a SMS based farm advisory portal run by government of India; the Green Sim, a private initiative by India's largest cell phone provider, Airtel; Kisan Call Centre under the government's Department of Agriculture and Cooperation; and iKisan, an online informational resource for farmers by another private sector entity, Nagarjuna Fertilizers and Chemicals Ltd (NFCL).
mKisan was launched in 2013 and gives information, services, and advisories to farmers by SMS; farmers can indicate their preferred language and specify relevant agricultural practices and data specific to their location.  mKisan has sent millions of messages throughout the length and breadth of India.
Kisan Call Centers were launched in 2004 over the entire country to deliver extension services to the farming community. Farmers can call and make queries related to crops, seeds, fertilizers, agricultural commodity prices, pesticides, horticulture, veterinary issues and so on, free of charge.
Green Sim, another private national initiative, is a joint venture by IFFCO (Indian Farmers Fertilizer Cooperative) and Airtel, fulfilling their individual objectives of both the telecom provider and cooperative by providing information directly to farmers, delivering location- and time-sensitive information, and important alerts without adding economic strain to farmers. Green Sim comes with a flat cost of 86 rupees and can get the IFFCO services free of charge with proactive messaging services which target at updating of new information in the market, weather and cropping patterns, and reactive messaging services which are need-based.
iKisan was established in 2000 as part of Nagarjuna Group's vision of rural prosperity through enhanced knowledge, with technology making Indian farmers globally competitive. iKisan is an agricultural portal which provides online, detailed content on crops, crop management techniques, fertilizers, and pesticides and a lot of other agriculture-related material. Other initiatives by private sectors entities discussed included mKrishi, a mobile agro-advisory system by Tata Consultancy Services (TCS);
Other forms of online portals were also discussed, such as the eSagu personalized agro-advisory system, the use of Facebook by Kerala's Department of Agriculture, and SasyaSree. eSagu is an IT-based scalable system to disseminate location-specific best agricultural practices to all farmers; an agricultural scientist provides expert advice using digital photographs of the crop. Facebook is being widely used by the Department of Agriculture, Kerala in state's local language as a channel to disseminate useful information to farmers and facilitate communication among the famers. SasyaSree, managed by Centre for Good Governance (CGG), is another local language portal (this one in Telugu) which promotes the use of existing technologies as means to improve productivity and farmer incomes. It is currently available in eight districts of the state, providing informative videos based on local conditions and local cropping patterns.
Access to all of the conference presentations: http://crispindia.org/index.php/ppts/